International Semester on Education – Faculty of Education and Social Work (Valladolid)
This is a "cluster" of training modules for initial or permanent teachers interested in introducing a complementary strategy of teaching within the core curriculum of primary and secondary schools.
Aims:
Identify and define the key competences necessary for employability, personal fulfilment and health, active and responsible citizenship and social inclusion.
Develop a strategy of teacher training as a set of contents focused on the European dimension of education in terms of competences for teaching in lifelong learning.
Target group: International students interested in initial or permanent teacher training.
The key competences "on board" at primary schools*
8 key competences
30 ECTS
 6 educational departments
12 enthusiastic professors involved in initial teacher training
DATES: from 11 February to 28 June 2019
* According to the Council Recommendation on Key Competences for Lifelong Learning, adopted by the Council at its 3617th meeting held on 22 May 2018
Information
Subjects
COMPETENCES IN COMMUNICATION
COMPETENCES IN MATHS EDUCATION
COMPETENCES IN DIGITAL KNOWLEDGE
COMPETENCES IN LEARN TO LEARN
SOCIAL AND CIVIC COMPETENCIES
COMPETENCES IN SENSE OF INITIATIVE AND ENTREPRENEURSHIP
COMPETENCES IN CULTURAL AWARENESS AND EXPRESSION
Organizers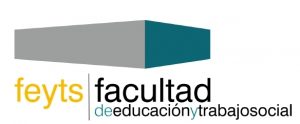 Contact
VENUE: Faculty of Education and Social Work.
Paseo de Belen, 1. 47011 Valladolid
Tel. +34 983 423 286
Email: luis.carro@uva.es